WeyFest Festival
Solutions

and Deliverables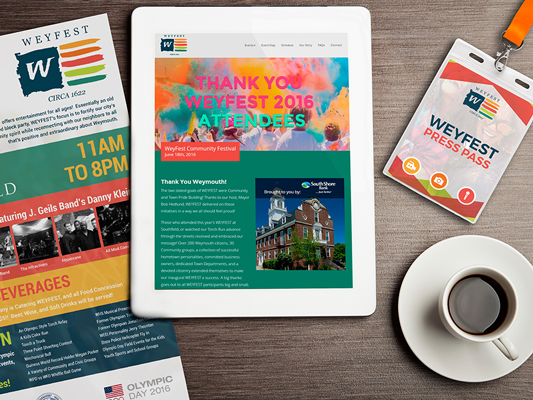 The deliverables to create the brand identity and creative marketing strategy for the WeyFest Community Festival included: Logo and color palette, mission and message, Website, social media outlets (Twitter, Facebook, Instagram) and advertising, print advertising, as well as public relation outreach.
The job did not stop there though. Me and my team were tasked with creating all the event & stage sign-age, merchandise, press passes, event map, as well as photo shoot of the event as it was happening. As you can imagine, this was an undertaking, as there were many moving parts and deadlines to hit throughout the whole process, from inception to finish. In the end, we managed to deliver all requested deliverables on time and within budget.
Through the inception of the creative marketing campaign for WeyFest Weymouth Community Festival, we generated a great amount of interest for the festival. Over 10,500 website sessions and 20,000 page views from the short time of April through July of 2016. Our social media campaign for WeyFest also garnished 610+ organic Facebook page likes and 600+ follows during that same time span.